UPCOMING SHOWS
Scottish Opera
Opera in Ullapool
The worlds greatest love songs on your doorstep
A troupe of talented singers embark on a journey of discovery, bringing an original piano-accompanied production to your doorstep this Spring.

With music meticulously curated by Scottish Opera's Head of Music Derek Clark, Opera Highlights combines repertoire favourites with lesser-known pieces. The cast includes Scottish Opera Emerging Artist baritone Colin Murray, soprano Holly Teague, mezzo-soprano Annie Reilly and tenor Andrew Henley. Director Emma Jenkins and designer Janis Hart bring imagination, verve and creativity to the tour. With music from The Magic Flute, The Marriage of Figaro and The Pearl Fishers and many more, you will not find such a treasure trove of opera anywhere else!
'The whole experience was a unique privilege. Neither of us has ever experienced an operatic evening like this. The singers were brilliant, but the intimate setting allowed us to marvel at the acting skills.' - Audience member in Cullivoe, Shetland
The Macphail Centre, Mill st, Ullapool IV26 2UN
Tuesday 7th March - 7.30pm
Tickets from £15, and £5 for under 26s.
---
Phil McIntyre Live ltd by arrangement with The Galton Agency proudly presents:
Ray Bradshaw: Deaf Com 1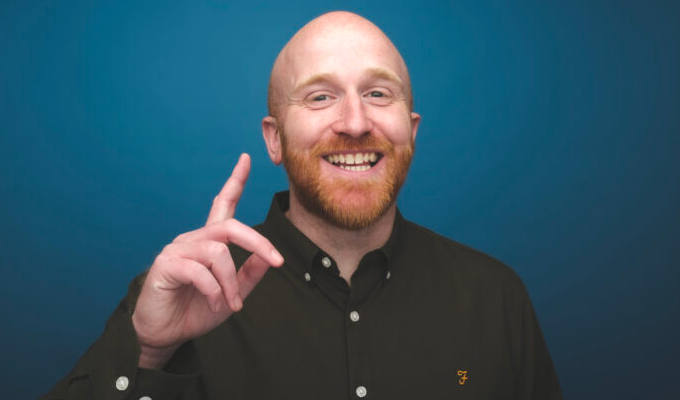 Following his groundbreaking 2018 show, Deaf Comedy Fam, Ray Bradshaw's new stand-up show, Deaf Com 1, covers his recent fatherhood, teaching his young son sign language and a disastrous trip to Bahrain!
International award-winning comic, Ray, spent 2021/22 touring the UK as John Bishop's handpicked support act, having previously toured with Frankie Boyle in 2019. Ray was the first comedian to ever win a Scottish Culture Award and is a regular host of Scotland's most popular radio show, Breaking The News.
Ray is a CODA (like in the Oscar winning film) and grew up with deaf parents. All of his shows are performed in both BSL and English, with Deaf Comedy Fam becoming the first ever live comedy experience for more than 800 deaf audience members.
Ray's clever, charming and very funny comedy has received critical acclaim from critics and fans alike.
"funny and fascinating… one in six of us will lose our sense of hearing. Deaf Comedy Fam proves it doesn't mean you have to lose your sense of humour" ★★★★ The Scotsman
The Macphail Centre, Ullapool
1st April, 2023, 8pm
Tickets: £16.95 each on the Ticketmaster website
Tickets: Ray Bradshaw, Ullapool | Sat, 1 Apr 2023, 20:00 | Ticketmaster UK
---
Tim Vine: Breeeep
It's Tim Vine and he's back with a brand-new stand-up show! Come and enjoy a mountain of nonsense, daft one-liners, joyful songs, wobbly props, and ridiculous humour. (Plus, utter drivel.) Witness the stupidity. Then leave. Switched on the Christmas lights in Cheam two years on the run. 'Is there a more ludicrous comedian in Britain?' (The Times)
The Macphail Centre, Ullapool
Friday 8th September 2023 at 7:30pm
Tickets £20 @ The Macphail Centre, 01854613336 or email at This email address is being protected from spambots. You need JavaScript enabled to view it. with your name and contact details
All tickets non-refundable.
---
REGULAR BOOKINGS
---
NHS DEAF SERVICES DROP IN
Starting Tuesday 14th June 2022
(Then every 2nd Tuesday, every 2 months)
2022
Tuesday 9th August 2022
Tuesday 11th October 2022
Tuesday 13th December 2022
2023
Tuesday 14th February 2023
Tuesday 11th April 2023
Tuesday 13th June 2023
NHS Deaf Services, 4 Fodderty Way, Dingwall Business Park, Dingwall, IV15 9XB
Tel: 01349 868711 Mob:07887 833889
Email: This email address is being protected from spambots. You need JavaScript enabled to view it.
___________________________________________________________________________________________
-